I am a highlighter addict.  If there is one makeup product I cannot live without, it is the highlighter.  So here is a list of my favorite five highlighters that I am currently using and adoring.
theBalm Mary-Lou Manizer Highlighter and Shimmer Compact – $24  This is a long time favorite (and I recently purchased the liquid version as well but haven't had a chance to test it out).  This goes in my gym bag, travel bag, etc. for a perfect day-to-day glow.  
 This is a subtle highlighter.  I recommend layering this over a strobing cream like the Mac Cosmetics Strobing Cream for a more intense look.  

Kat Von D's 10-Year Anniversary Metal Crush Extreme Highlighter $30 – "Gold Skoll"   This has a liquid-to-powder feel and a beautiful gold sheen.  You can blend out to just a soft gold-flaked sheen or you can really blind somebody by building it up.  It's also part of the limited edition 10-year Anniversary collection.
I bought the full Kat Von D 10th Anniversary collection.  For more swatches and images, check out our Instagram.  
3.  Limited Edition Dew Drops Coconut Gel Highlighter
 (Rose Gold) or Dew Drops Coconut Gel Highlighter
 – $44 each.
This gel highlighter is incredible.  However, the Rose Gold is too dark for my skin tone.  
The original Dew Drops Coconut highlighter is incredible.  It's very hydrating on the skin and doesn't crease.  For a dewy-all-over look, I mix a couple of pumps with my foundation.  I also like rubbing a drop over my shoulders for a really pretty shine.  
 I wanted to show how it looks on the skin straight out of the bottle (bottom swatch) and sheered out (top swatch).
4.  Lime Crime Hi-Lite Highlighter Palette – $38 – Mermaids

This is a great palette.  The pans are really big and you get a lot of product so you can really dip your brush in.  I am forever addicted to mermaid-inspired makeup and this is no different.  I think you can really build up the pigment of these highlights to give you that mermaid vibe, or you can wear them sheered out for a more wearable or neutral look.  The formula is very creamy.
5.  Physicians Formula Pf Butter Highlighter (pictured in "Rose Gold")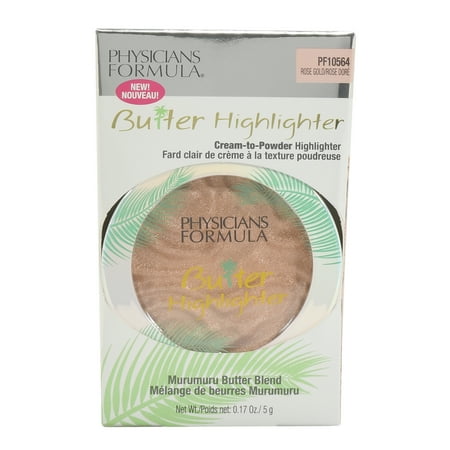 This is my favorite drugstore highlighter!  It is so buttery soft and creamy and blends seamlessly with makeup (even over powder foundation!).  These are my favorite two shades (Left to Right- Iridescence and Rose Gold).
Hope you enjoy my favorite five highlighters as much as I do.  Have you tried any of these?  What do you think?
SaveSave