Have you ever heard that the best makeup starts with a good skincare routine?  Here's part 1 of my skincare routine and some of my favorite skincare products.
My first step to taking care of my skin is to remove all makeup, pollutants, and impurities by cleansing my face.  To really get rid of the day and make sure my face is squeaky clean before proceeding with my skincare routine, I use the double cleanse method.
Personally, I have sensitive oily skin, which is prone to cystic acne breakouts. So I tried a million different cleansers and have determined that these are the best products for my skin.  Whether you have oily, combination, or dry skin, it's important to properly cleanse your skin of makeup and other environmental stressors that can clog up your pores.
So here are my routines and favorite products:
Night Routine
Double Cleanse:
At night, when I get home, I need to wash my makeup off and make sure that my skin is clean and calm.  No matter how tired I am, and how much I want to just relax, this step is a must.
I use the double cleanse method, which means that I take my makeup off with an oil cleanser and then make sure any leftover makeup or oil is washed away with a foaming cleanser.
Here are my favorite products:
Oil Cleanser-
Erno Laszlo Sensitive Cleansing Oil
 – $58.00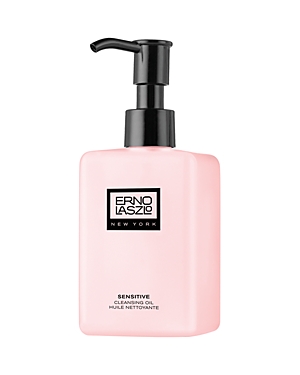 This oil cleanser is the one cleanser to rule them all.  It might be pricey, but it seriously eradicates all traces of your makeup.  Also this bottle contains a lot of product so it can last you forever.  It is really gentle and easy to use and doesn't leave behind an oily residue like some other oil cleansers.  However, I will say that I wish the packaging was a little nicer.  The pump on the bottle is a little hit or miss (Some bottles bump just fine, others sorta squirt the oil everywhere.  Just the luck of the draw.) and the writing on the bottle will get wiped away by the cleanser over time.  Still what's inside the bottle gets a big A++ from me.
Sulwhasoo Gentle Cleansing Oil Ex – $38
I got a deluxe sample of this oil cleanser at Beautycon LA this year and I really loved how easily it broke through my makeup and left my skin clean.  It's super gentle and didn't irritate my skin at all.  I bought the full-sized bottle and have added it to my skincare routine.
Pure One Step Camellia Cleansing Oil
– 48.00
Tatcha products are all beautiful.  This cleanser is no different.  The packaging is also beautiful and will proudly sit on your vanity or bathroom counter.  I can say nothing bad about this cleanser, but it's pricey and doesn't quite eliminate makeup as well as the other two products I listed.  It is a beautiful cleanser, but full warning, I spend more time having to rub this oil into my skin than the other two products, and i'm left with a little mascara left behind for my foaming cleanser to get rid of.  It is incredibly gentle on the skin and smells good.  This is definitely a luxurious product. Good news is it also comes in a travel size and you can find the travel size in many Tatcha value sets so you can try the oil cleanser and other products without spending the money for the large size.
Foaming Cleanser-
Erno Laszlo Sensitive Cleansing Bar
 – $38.00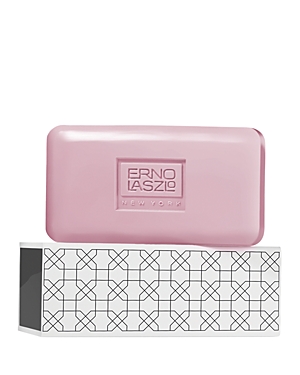 I use the Erno Laszlo cleansing bar as step two of my double cleanse.  If on the off-chance the oil cleanser missed anything, or just to make sure you washed away all of the oil cleanser, this cleanser bar will really purify the skin.  It doesn't leave my skin dry and the package comes with a little plastic bar holder, which allows the solid cleanser to dry in a very sanitary fashion.  This solid cleanser has no scent and does not irritate my skin at all.  And it makes for a great Beautyblender cleanser in a pinch.
If you don't like a solid cleanser, see below for my favorite liquid cleansers.  I use them day or night to be honest.
Day Time Routine
In the morning, I don't need to double cleanse because I shouldn't have any makeup on (right? right?), so in the morning I don't use an oil cleanser.  I simply wake up and wash my face using a foaming cleanser.  If you have oily skin like me, washing your face in the morning gets rid of any oils that your skin secreted while you slept (eww!) and gets rid of any leftover product from the night before (such as an overnight mask) so you can start the day fresh.
I think this is a preference thing, however.  Some people don't like washing their face in the morning because they don't want to strip their skin by cleansing too frequently.  I think if you use a gentle cleanser, something that's not going to strip your skin, then go for it.  Regardless of whether you decide to cleanse your face in the morning, you should always make sure to splash water on your face and pat dry before putting on moisturizer.  Your moisturizer will help lock in the moisture in your skin.
Here are four more of my favorite gentle cleansers (perfect even for sensitive skin!):
Saturday Skin Rise + Shine Purifying Cleanser
– $26.00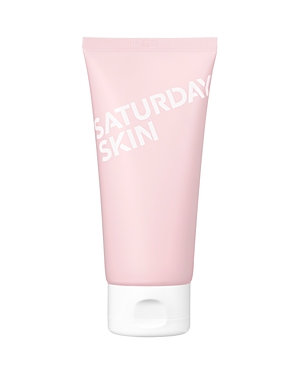 Saturday Skin is a new skincare line for me.  I had been meaning to try it, so I did a big Saturday Skin haul and got a full set of everything.  This is quickly becoming a favorite cleanser.  It is very creamy and works great with my Foreo Luna.  Smells delicious but the scent is very subtle.  I don't know if it's a placebo effect due to the title, but it really makes me feel invigorated and ready to take on the day.
Belif Creamy Cleansing Foam Moist- $26.00
Not all of the words on the package seem to be in the correct order, but this is a great great cleanser.  It says it's good for normal to dry skin on the bottle, but I found that it does great things for my oily skin too.  So, maybe it's good for all skin types!  A little goes a long way and a lot of product comes in this bottle.  I even use this cleanser to wash my Beautyblender sponges sometimes.  It gets out even foundation stains on my Beautyblender sponges without discoloring the sponge or rubbing it raw.  But this cleanser doesn't like to get rid of all my mascara, so I really use this one in tandem with a good oil cleanser.  Leaves your skin feeling moisturized.
Drunk Elephant Beste No. 9 Jelly Cleanser- $34.00
This cleanser smells like nothing, but it is super effective at washing away the day, including any makeup.  It is very gentle, doesn't irritate sensitive skin, and leaves your skin feeling squeaky clean without stripping your skin or drying it out.  I keep this one in my shower for those days when a solid cleanser just won't cut it or for days when my skin is feeling a little irritated.
It Cosmetics Confidence in a Cleanser- $28.00
Super soft and gentle cleanser.  Probably the best smelling out of the cleansers listed in this post.  It has a fruity fragrance that doesn't overwhelm the senses.  This bottle has a lot of product in it and the price is great.  Leaves my voice feeling really clean but also moisturized.  I love taking this cleanser with me to the gym for my post-workout shower.  I definitely have confidence in this cleanser.
Stay tuned for part 2 of our skincare routine- Essence and Serums!
Do you double cleanse?  What's your favorite cleanser?  Let me know in the comments or on instagram.
#pinksocietylife #webelieveinpink
(Fine Print: This post is not sponsored.  All products photographed and discussed were purchased by me and used by me.  All opinions are my own.  Some links are affiliate links.  You can use them if you want to support our blog, but it's totally ok if you don't.  The majority of these products can be found at Sephora, Ulta, or your favorite department store.)